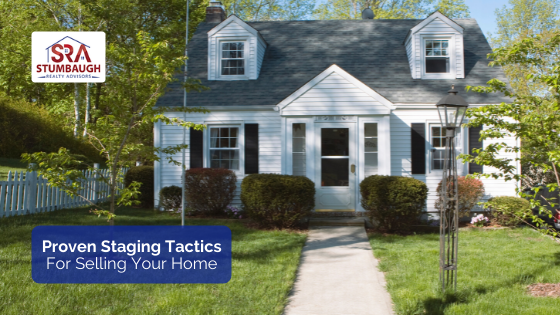 Selling your home is a task that many people are unprepared for. When a person goes to list their home, they find there is much more to the process than they thought. This can be incredibly overwhelming and can lead to mistakes if you aren't careful. Our real estate agents are available to guide you through the process and make sure you get as much out of your property as possible.
Curb Appeal – How your home looks from the street is the first impression a home buyer will have. First impressions are everything! Revamp your landscaping. Mow and trim your lawn. Make sure all of your exterior lighting is functional. It's the little things that will stand out. Take a good look at your property and fix anything that may detract from its appearance.

Deep Clean Inside and Out – Deep clean your home inside and out. Clear away clutter and make sure everything has been wiped down. Wash your windows inside and out. Put a fresh coat of paint over areas that look worn. Move your furniture around, so you are sure to clean every corner. Outside your home, make sure everything is put in its proper place.

The Right Real Estate Agent – The next step is to find the right real estate agent. Your agent will work with you when it comes to pricing and putting your home on the market. They have the knowledge and experience to help you get it right the first time. Above all, make sure you find an agent you can trust. You will be working closely with them when it comes to the financial aspect of selling your home. Trust is a must.

Know Your Home – Your home will be one of many Vacaville homes for sale. The more you know about your home, the more you will be able to sing its praises when compared to other homes in the area. A home buyer will always have questions. Make sure you have all of the answers. Do your research. Read your abstract and understand your home's history.

Price Your Home Accurately – The real estate market is constantly changing. Knowing how to price your home accurately is essential. If you have a knowledgeable real estate agent, they can help you set a fair price so that you get as close to what your home is actually worth as possible. Determining an accurate price will depend on many factors. Your agent will be able to help sort those out so you can come up with a fair price. 

Don't Let Your Emotions Rule – Selling your home is an emotional experience. If you've spent many years there, your emotions may get the better of you. Look to the future and save your memories, but don't let sentimental notions keep you from moving forward with a sale. A new home will mean new memories!
When you make the decision to sell your home, contact us! It's a hard call to make at times. Take the time you need to ensure that you are making the right choice. Our agents can help you work the process quickly and efficiently. We have the answers and the experience to help you get top dollar for your home.